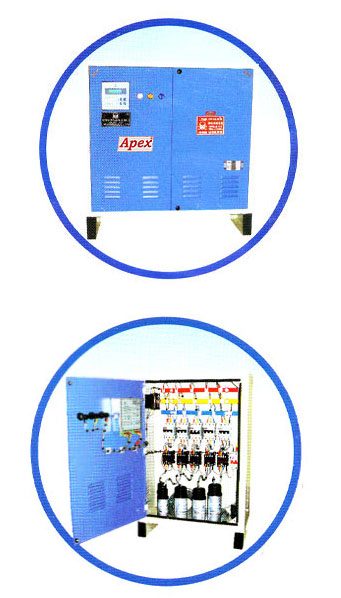 Product Introduction
We are reckoned as one of the most prominent Automatic APFC Panel Manufacturers and Suppliers in India. The unmatched quality and inexplicable performance of APFC Control Panel in respective applications has attracted clients from every nook and corner of India to place huge and repeated orders.
Power Factor is the most important item in an electrical load. It is measured in KVAR and is in a dynamic state - normally. In an institution generally the load is in inductive form, causing a low PF. A matching KVAR output of a capacitor bank must be used to adjust the lagging or leading form of power factor and that too by itself & immediately to its requirement, if one has to obtain a uniform PF. This is possible by using the automatic switching on/off device or a control panel called an APFC panel or Automatic Power Factor Controlling panel.
There are various parameters on which these APFC Works.
Current - Sensing based APFC
Power Factor Sensing based APFC (It is the mostly used type of APFC Panel)
KVAR Sensing based APFC
Types of APFC Panels
Contactor based APFC'S
Thyristor Based APFC
Structural Design of an APFC Panel
Cabinet of sheet metal duly powder coated.
Main incoming switch fuse or circuit breaker for the bank.
Capacitor bank bus bar.
Capacitor bank CT's.
Ammeter selector switch.
Ammeter for bank current.
Sectional circuit breakers or fuses or any other breaking device.
Automatic control relay.
Power contactor.
Push Button & auto/manual selectors set for manual mode working.
Indicating lamps on each bank.
Cooling fan or any arrangement.