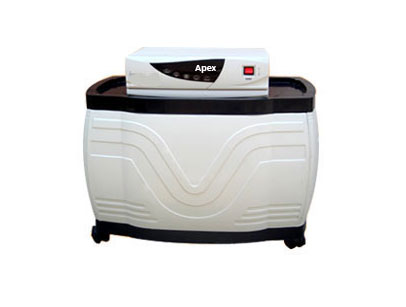 Models 850 / 1000 / 1500 VA ( Other Model 1.5 KVA to 20 KVA )
The company styles a large vary of inverters, that ar used for varied applications and meets the international standards. Inverters ar used for maintaining power provide and Apex Powelec manufactures inverters that may be used for handling computers to massive industrial applications. As the name says inverter is a setup that converts DC to AC current thereby substituting conventional domestic supply when a power shutdown happens, APEX deals following backup equipments-HOME UPS, Industrial UPS, and UPS for other commercial infrastructures from chennai.
Special Features
State-of-the-art MOSFET based PWM technology with greater efficiency, lower cost with Dynamic Stability
Quasi sine wave/Pure sine wave
Battery High Protection
Automatic sense, Intelligent control smart charge
High surge load capacity
Battery low Protection LED display and alarm
Over load Protection LED display and alarm
Auto restart
No humming Noise (Silent Inverter)
Inverter to mains change over at Zero crossing as well as phase synchronization
Wide input voltage range
Extended backup time
High Overall Efficiency.
Technical View
Rating

850VA

1000VA

1500VA

Chat A

Chat B

Chat C

Chat A

Chat B

Chat C

Chat A

Chat B

Chat C

Fan

3

4

3

4

5

3

5

8

6

Television

1

1

2

0

1

Tube Light

3

4

3

4

5

4

5

8

6

Personal Computer

1

1

0

0

1

12V

12V/24V

24V