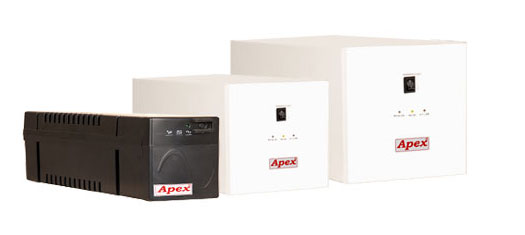 The simplest and most cost effective way of coping with these disturbances is to install an Uninterruptible Power Supply. Acting as an interface between the mains and the loads, the UPS guarantees the continuity and the quality of electrical power supplied to the loads. In fact Apex UPS stabilizes the voltage perfectly eliminating all disturbances.
The Line-interactive UPS offers surge protection and battery back-up and also regulates the AC power using one converter.
Special Features
Full safety of highly sophisticated equipment
Ensures full charging and protection of the batteries and enhanced battery life.
100% protection to the load from full range of power disturbances.
Immediate changeover (Change-over with phase synchronization)
Start up without Mains (Cold start)
Lower electricity consumption
Lower operating temperatures
Less heat load on facility - less heat is produced by the UPS.
Applications
Data centers, LAN nodes, Telecommunication system, Check out system in supermarket, Lighting systems, Production units, Safety systems etc.
must always be protected against problems in power supply. Sudden blackouts and variations in the main power supply may lead to malfunction and severe data losses.
Technical View

Model
650
850
1150
1550
2000
1250
1750
2500
3000
Rating
650 VA
850 VA
1150 VA
1550 VA
2000 VA
1250 VA
1750 VA
2500 VA
3000 VA
420 W
600 W
770 W
1100 W
1600 W
1150 W
1600 W
2250 W
2700 W
Electrical Characteristics
Technology
Line-Interactive High Frequency (Booster+Fader)
Input Voltage and frequency
160V-294V (adjustable to 150V-294V)
ranges without using
47 to 70 Hz (50 Hz system), 56.5 to 70 Hz (60 Hz system)
batteries
Output voltage and frequency
230 V (+6/-10%), 50/60 Hz +/-0.1%
Connections
Input
1 IEC C14 (10 A) socket
1 IEC C20 (16A) socket
Outputs
4 IEC C13 (10 A)
8 IEC C13 (10A)
8 IEC C20 (16A) socket
Batteries
Typical backup times for 50 and 70% of the VA
Battery management
Automatic weekly test (period adjustable), automatic recognition
of external battery units => continuous maximisation of backup time
+deep discharge protection
Interfaces
Communication ports
( Optional )
1 RS232 serial port and relay contacts
Operating conditions, standards and approvals
Operating temperature
0 to 35ºc
0 to 40ºc
Noise level
<40dbA
<45 dBA
<50 dBA